Meet Craig Delehanty, an Account Manager who has been working here at The Mailworks for nearly eight years. Find out something surprising about him, his favorite place he's ever traveled, and the accomplishment that makes him the most proud.
What is something surprising about you that many people might not know?  
I was a referee for a National Flag Football tournament in 2018 that was televised on the NFL Network.  The Tournament featured some of the best flag teams in the country as well as teams made up of ex-NFL and NBA players. 
Where is your favorite place you've ever traveled to? 
Walt Disney World in Florida – have visited 10 times. The 1st time was in 1978 when they only had one park and most recently in 2016 when we went as a family for my Mom's 70th birthday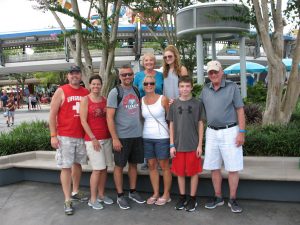 How would you describe The Mailworks culture in 3 words?   
Open – Friendly – Efficient
What person, fictional or real, has inspired you the most?      
 I am constantly inspired by the "Greatest generation"  I read a lot of history books, and every World War 2 book I read is full of average people (some just teenagers) doing extraordinary things in the face of certain death. People from all walks of life banded together to save the world.
What accomplishment from your time at The Mailworks are you most proud of? 
When FS Marketing teamed up with The Mailworks, our sales figures were always very solid, but over the course of 5 years we have seen those numbers double and then double again. A remarkable achievement in a pretty tough industry.