This week our Employee Spotlight features Helena Nichols, our Operations Assistant here at The Mailworks. Find out something surprising about her, her best piece of career advice, and the person who has inspired her the most. 
What is something surprising about you that many people might not know?
I wrote a book when I was 15 years old. It was a story about a greek witch and a mysterious man called Salazar Georgakopoulos. Very dark and sad love story. It had over 50 pages. 
What is your best piece of career advice?
Be patient! I heard a lot of no's and had to take a few steps back in my professional life that I wasn't very happy about it. It was all worth it! 
Where is your favorite place you've ever traveled to?
A road trip to the West Coast. I took a flight from Albany to Las Vegas and then started my trip from there. I drove across Nevada, Arizona, Utah and California for 2 weeks. The most beautiful spot was the Grand Canyon!
How would you describe The Mailworks culture in 3 words?
Fast-paced, resilient and friendly.
What person, fictional or real, has inspired you the most?
My mom! She grew up in a village in the Amazon forest and had to leave her house when she was 12 years old to work as a babysitter and go to school. She was the first one of her family to get a college degree and she's a Biology teacher now.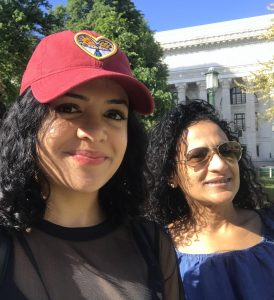 What accomplishment from your time at The Mailworks are you most proud of?
Learned all types, sizes, colors of everything we carry! I thought I was never going to be able to because I've never worked in the mail/print industry before. Every single person in this company teaches me something new every day.